Registration Dates
Open: 03/26/20
Closed: 09/05/20
Tournament Dates
Starts: 09/12/20
Ends: 09/13/20
Cancellation Dates
Cancellation Deadline: 09/04/20
Location
The Paseo Club
27650 Dickason Dr
Valencia, CA 91355

Registration
Player's age as of: 12/31/20
Minimum Age of Player: 0
Final Registration Deadline: 09/05/20
Tournament Sanctioning: Not Sanctioned
Registration, Ages: 8+,50+ - $40.00
Registration includes: Free Shirt
When registering online, online waiver signature is used.
Additional Info
Primary Ball: Onix Dura Fast 40 - Yellow
Net: Temporary
Outdoor: Y
Tournament Description
Are you a USAPA Ambassador? Email info@nationalpickleball.com for a special discount!This tournament will help support the efforts of the Pickleball Legacy Scholarship Foundation, which has the mission of promoting pickleball among youth players and specifically by rewarding qualifying youth players with scholarships to assist with the financial burdens associated with higher-education. The first scholarships will be awarded THIS YEAR at the 2020 Margarittaville USA National Pickleball Championships.
Competition Events
(All events: $10.00 each)
Womens Doubles: Sat 09/12/20
(Skill levels and age groups within skill levels. Age Groups: 8+,50+)

Mens Doubles: Sat 09/12/20
(Skill levels and age groups within skill levels. Age Groups: 8+,50+)

Mixed Doubles: Sun 09/13/20
(Skill levels and age groups within skill levels. Age Groups: 8+,50+)

Player List
Brumley

, Joy
Pikes Peak Pickleball Club

Carter

, George
Other

Coen

, Dawn
Santa Clarita Valley Pickleball

Coen

, John(Jack)
Santa Clarita Valley Pickleball

DeVries

, Mark
Northwest Bakersfield Pickleball

Fromberg

, Howard
Santa Clarita Pickleball

Furst

, Elaine
Santa Maria,CA

Furst

, Jeff
Santa Maria,CA

Gailen

, Scott
Chatsworth,CA

Garcia

, Eric(E)
NW Bakersfield Pickleball

Gauvin

, Brooke
Paseo Club

Gauvin

, Gregg
Paseo Club

Glath

, Cheryl
Thousand Oaks, CA

Gougas

, Gus
Rancho Conejo

Hannah

, Sandra(Sandy)
NW Bakersfield PB

Harker

, Tammi
NW Bakersfield Pickleplex

Hatanaka

, Sara
Arcadia,CA

Hobbs

, Daniel
NW Bakersfield Pickleball

James

, Glenda
Bakersfield northwest pickleball

Lee

, Chun wai(Angus)
Team Engage

Mada

, Kelly
Ventura

Marvin

, Dustin
Simi Valley,CA

Medina, Jr

, Ernesto(Ernie)
Loma Linda Pickleball Club

Melendez Ek

, Andres
,CA

Mundy

, Chris
Paseo Club, Valencia, CA

Obrique

, Romeo(Romy)
Victor Valley / Golden Triangle Pickleball

Oh

, Amanda(Pineapple Princess)
Santa Barbara Pickleball

Pacho

, Lee
California

Pendleton

, Garrett
Simi Valley,CA

Sloan

, Mary
Santa Clarita Pickleball

Tolsky

, Dave
Santa Clarita Valley Pickleball

Trapani

, Flo
Simi Valley

Waddell

, Kimberly(Kimi)
California

Wong

, Sue
Team Selkirk/Loma Linda Pickleball Club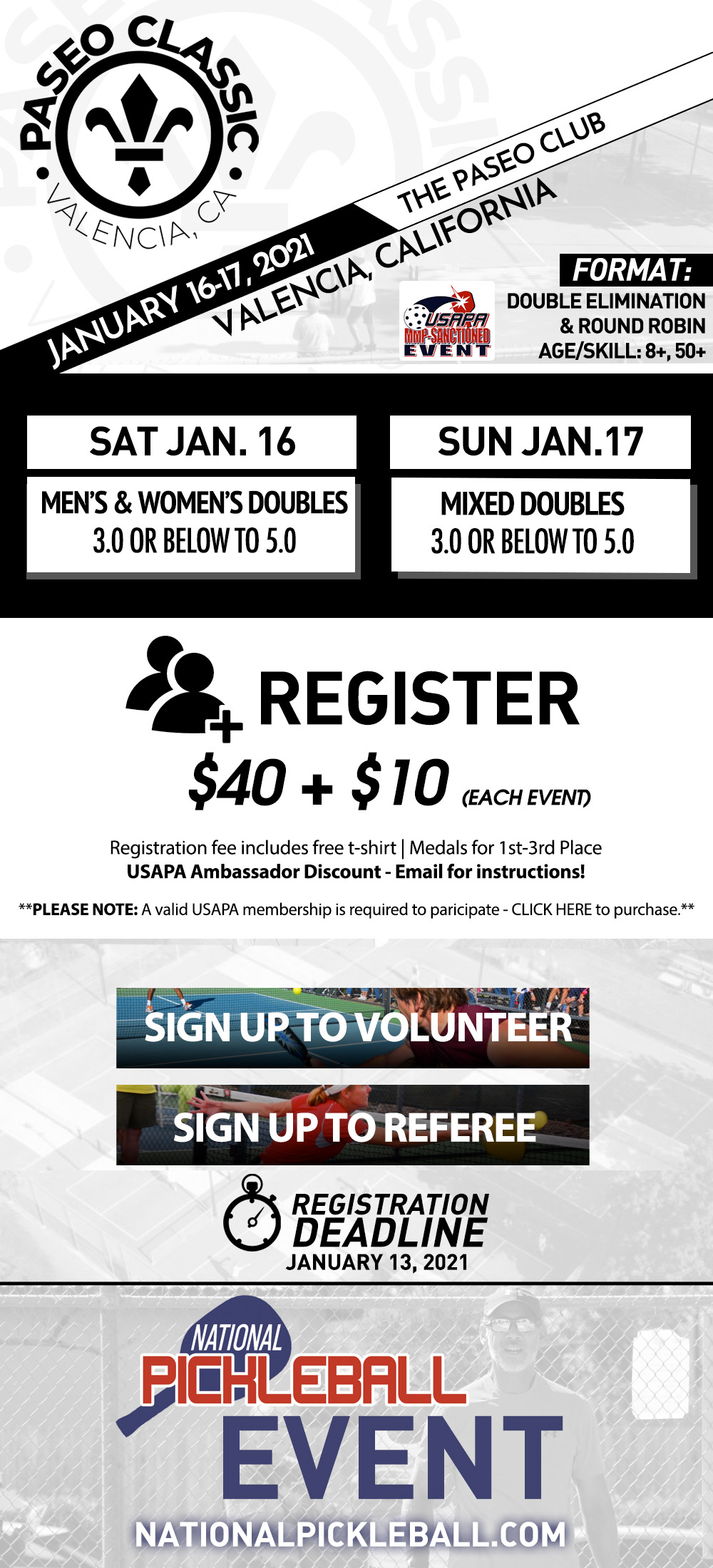 Directions
The Paseo Club
27650 Dickason Dr
Valencia, CA
Find Player
First: Click the first letter of the player's last name:
A
B
C
D
E
F
G
H
I
J
K
L
M
N
O
P
Q
R
S
T
U
V
W
X
Y
Z
Then: click the player's name in the list below:
Tournament Sponsors
Tournaments
Copyright Pickleballtournaments. Usage of all site content subject to Privacy Policy.